Amateur film-makers could soon be winging their way through the air, opening up a world that has previously only been accessible to big-budget film studios, thanks to the AR Drone 2.0, which was one of the stars of The Gadget Show Live.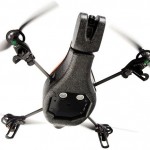 Parrot's AR Drone is a flying camera controlled by a smartphone or tablet.
The £279 flying machine from Parrot uses a smartphone or tablet as a  controller and is loaded with an HD camera, opening up a world of hitherto  big-budget camerawork to amateurs.
Asif Gillani, of Parrot, says: 'Via the app FreeFlight, you can instantly  record aerial HD footage to your phone or tablet, or upload directly to  YouTube.'